Zuni rainbow man pin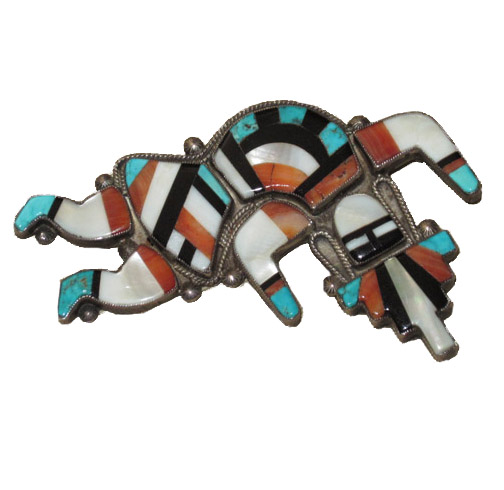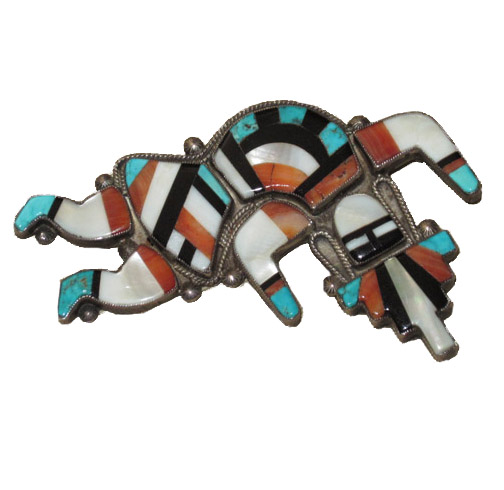 Zuni rainbow man pin
mosaic inlay on silver
3 1/2" wide x 2 3/8" high
made out of sterling silver, spiny oyster, other of pearl, jet, and high-grade turquoise
excellent condition
circa 1930-1940
$2800.
(j1949)
With encouragement by CG Wallace and a prehistoric tradition of mosaic inlay, the silversmiths and lapidaries at Zuni began making jewelry with channel and mosaic inlay in the 1930s.
It is difficult to assign a maker to this pin because jewelry of this period was not signed. However, it clearly was made by one of the great Zuni artists.
This brooch is much larger than most of the pins made at Zuni. This is also something that makes this pin very desirable.
The rainbow god design is one of the most sought-after designs by buyers of Southwestern Indian jewelry. It is a traditional design but it was also a design that the traders liked, because their customers liked it and purchased it.
Lauris Phillips, an early collector and highly respected dealer of Zuni jewelry, told me many years ago that the Zuni believe that the rainbow god pin should be worn horizontally, in the same manner as the pin backing is placed, because "the good luck is held in the center of the figure and you don't want the good luck to spill out". Thus, the design encourages harmony.